D7 visa is one of the ways to get a Portugal residence permit
Individuals can get a Portugal D7 visa in their country of origin. It allows two entries in Portugal and has a 4 months validity period. After arriving in Portugal, the D7 visa holder must apply for a residency permit with the Immigration and Border Services (SEF).
Compared to Portuguese Schengen visas, D7 is a residency one, not temporary. When a self-sufficient person is considering immigration to Portugal, they can use the D7 visa route.
The D7 visa route does not require fulfilling investment options but grants the same privileges.
Portugal D7 visa features
| | |
| --- | --- |
| | Obligation to request a Portugal residence permit |
| | Aimed at people who can live off their income |
| | 4 months validity period |
| | Available for family members |
| | Suitable for remote workers |
| | No requirements for the price of a property for rent or purchase |
| | Without the right to work in Portugal |
| | 183 days a year of mandatory residing in Portugal |
Who can use the Portugal D7 visa route
Only foreigners from non-EU countries can apply for a Portugal D7 visa.
Passive income outside of Portugal is the most important fact in obtaining a residency with the D7 visa. That's why the D7 visa is also called the Passive Income Visa.
An applicant can receive passive income like a pension, rental income or a remote work salary. The point is that migration officers must be assured that the applicant has enough money to live in Portugal without looking for a job.
The Portugal golden visa is one more path to getting a residency permit. An investor makes a sufficient donation to the Portuguese economy using one of several options: residential or commercial real estate purchase, fund contribution, business, science or culture investments.
The Portugal D7 visa is suitable for those planning to move to Portugal. The mandatory residing term is 183 days a year. Otherwise, the residence permit holder can lose their status.
Portugal D7 and Golden Visa comparison
Features
Residence permit after D7 visa
Golden Visa
Visa-free Schengen Area
The right to apply for permanent residency or passport in future
Minimum investment
Not required
€250,000+
Proof of sufficient income
€760+ per month
Not required
Processing time
4+ months
6+ months
Mandatory residing in Portugal
183 days a year
7 days a year
Relatives participation

Spouse;
Children under 18;
Children over 18, unmarried, studying at a university;
Disabled children of any age;
Brothers and sisters, financially dependent;
Parents, financially dependent

Spouse;
Children under 18;
Children aged 18 to 26, financially dependent, living with the investor or studying at a university;
Brothers and sisters under 26, in the investor's custody;
Parents, financially dependent on the investor

Registration fees for receiving residence cards
€155 per family member
€5,340 per family member
Portugal D7 visa benefits
Immigration to Portugal with lower costs. D7 visa expenses are lower than participating in the Portugal residence permit by investment program. The applicant must buy or rent a home and confirm his monthly passive income from sources abroad. The minimum passive income is €760 per month or €9,120 per year.
Including family members in the application. Spouses, children, parents, brothers and sisters can get a Portugal D7 visa with the main applicant.
Living in Portugal. The D7 visa leads to obtaining a residence permit which allows staying in Portugal without limits. Portugal D7 visa holders and residents have access to Portuguese infrastructure on an equal basis with local citizens, including public institutions, free education, the use of social insurance, the protection of trade unions, and quality medical care.
Tax optimisation. Foreigners who spend more than 183 days a year in Portugal become tax residents. They can receive preferential tax status as a Non-habitual Resident for 10 years. They do not pay tax on global income in Portugal if it has already been paid in a country with which Portugal has a double taxation treaty. Income tax in Portugal is paid at a flat rate of 20%. Without preferential status, it reaches 48%.
Visa-free Schengen Area. D7 visa holders travel within 26 Schengen countries without receiving additional permits.
Opportunity to get Portugal citizenship. A foreigner can apply for Portugal citizenship after five years of residency. The Portuguese passport allows you to travel to 187 countries without visas and choose any EU country to live in. The applicant will not have to give up the passport of the country of origin if its legislation allows citizens to acquire citizenship in other states.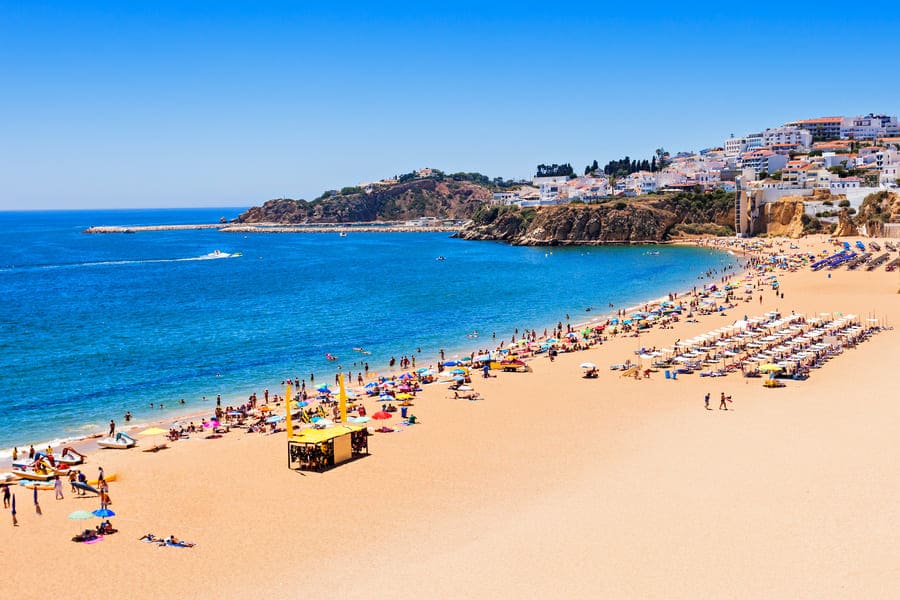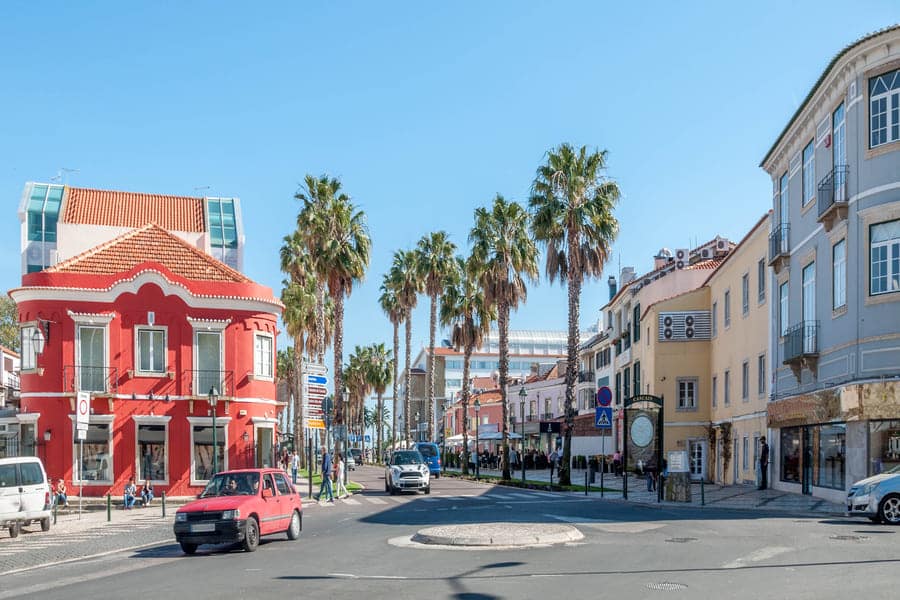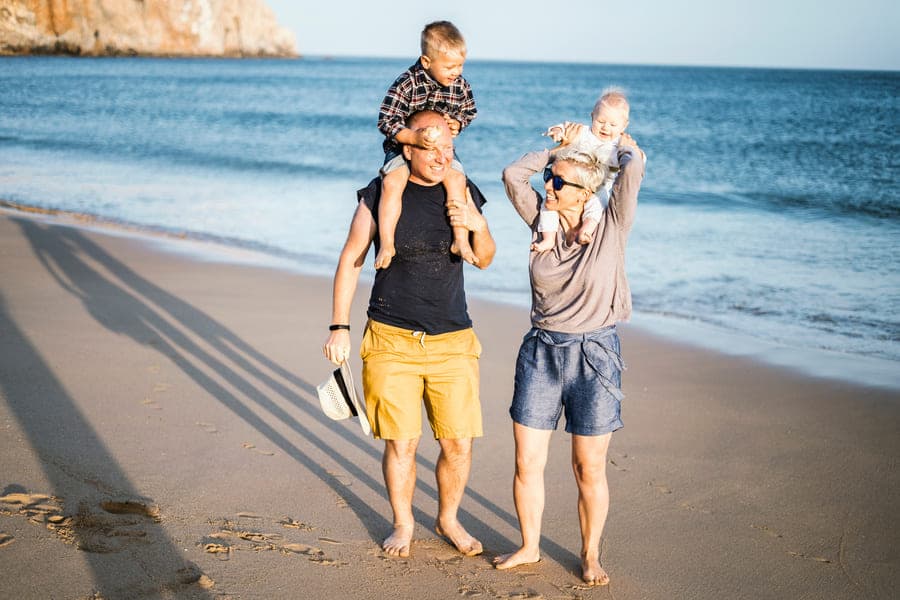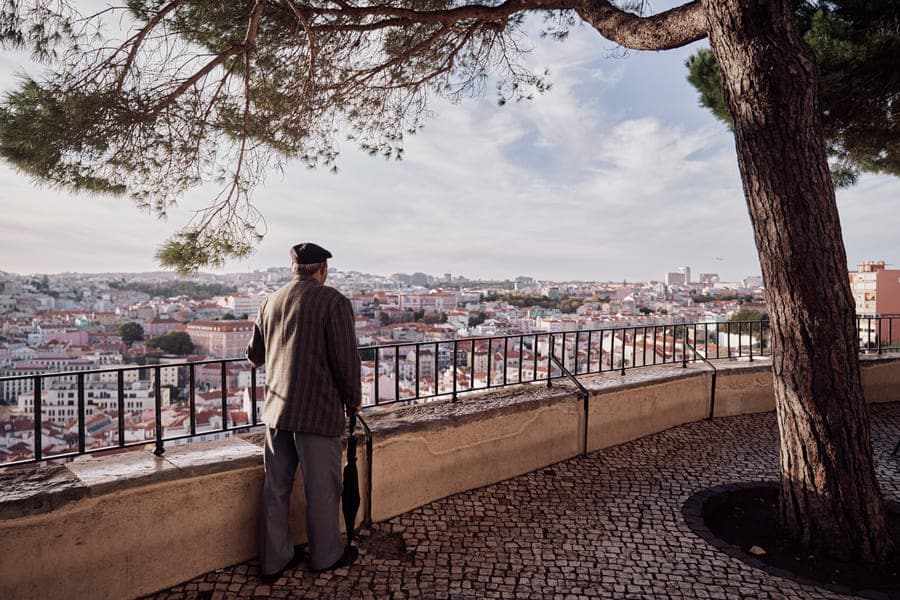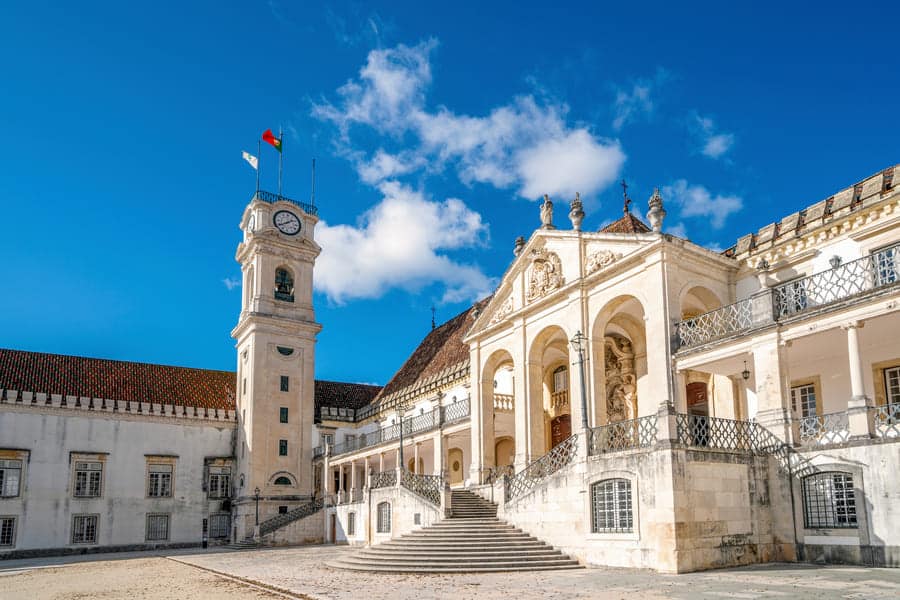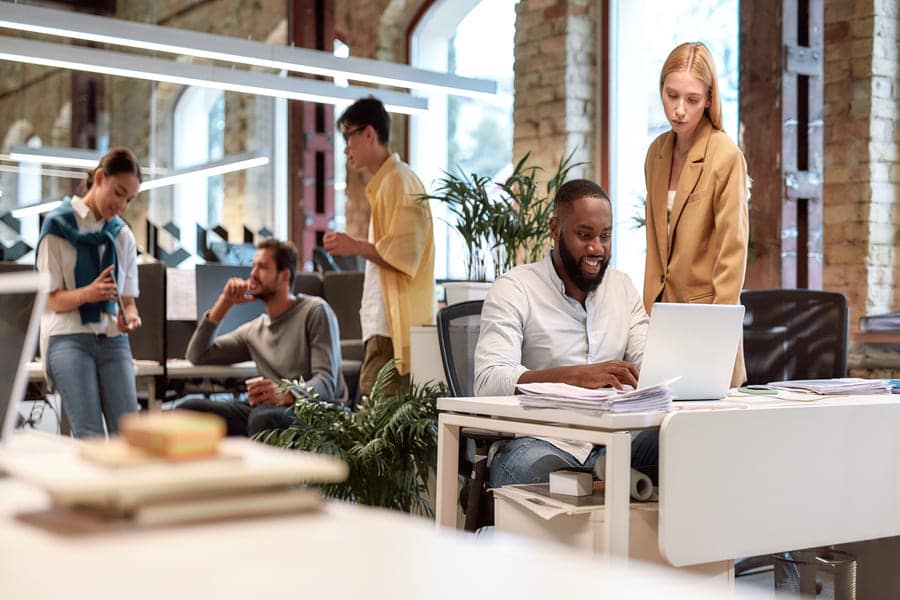 Portugal passive income visa requirements
Applicants. An adult person from a country outside the EU can apply for a D7 visa. They can include family members in the application. However, all applicants must meet specific requirements to qualify for the visa.
Main applicant


Over 18 years old
No criminal record
With non-EU country citizenship
With income outside Portugal from €760 per month
With bought or rented residential property in Portugal

Family members


Spouse without criminal record in an officially registered marriage or unregistered partnership
Children under 18
Children over 18 studying at a university
Disabled children of any age
Brothers and sisters, financially dependant
Parents of applicant and spouse, financially dependent
Passive income. Profits from business and intellectual property, pensions and leasing property earnings can be used as income to apply for the Portugal D7 visa. Remote workers need to have a contract with customers outside Portugal.
The minimum income for obtaining a D7 visa is related to the minimum salary in Portugal. In 2023, it is €760 per month. If relatives receive a visa together with the investor, you need to add 50% of income for a spouse or parent and 30% for each child.
To show the minimum income, an applicant must provide a bank statement. Keeping a minimum amount equal to 12 months' income in a Portuguese bank account is recommended. You can use this money after receiving a residence permit card.
Housing in Portugal. Applicants must have an accommodation and a registered address to get a residence permit. They can rent a property or buy it. In addition, there are no limits on the type, age and value of a property.
The average cost of buying a house in Lisbon is €3,414 per m². Residential property in Madeira is cheaper — €2,068 per m².
Rental prices also vary between regions. Lisbon's rental price is €14.2 per m². Lease an apartment in Albufeira will cost you €10.5 €14.2 per m². Plus, a tenant must pay utilities, which are not included in the rental bill.
Portugal D7 visa expenses
| | | | |
| --- | --- | --- | --- |
| Expenses | For one person | For a couple | For a family of three |
| Monthly income | €760 | €1,140 | €1,368 |
| Property price for renting or purchasing | Not limited | Not limited | Not limited |
| Medical insurance per month | €14 | €28 | €42 |
| Registration fees | €90 | €180 | €270 |
| Residence permit card | €154 | €308 | €463 |
D7 visa obtaining process
Before submitting documents at a Portuguese consulate in the country of origin, it is necessary to do some steps in Portugal. An applicant can visit Portugal and do it by themselves, or they can delegate it to specialists.
1. Getting a taxpayer number. Registering a taxpayer number in Portugal is possible by proxy without the applicant's physical presence. Número de Identificação Fiscal, NIF, is necessary for renting or buying real estate and opening a bank account in Portugal.
2. Buying or renting a property in Portugal. The investor chooses a property remotely or goes to Portugal to see the options in person. In the case of renting property, the landlord and tenant sign a long-term lease agreement, usually for one year. An investor who buys an apartment concludes a real estate purchase contract.
3. Opening a bank account The applicant needs a taxpayer number and a passport to open a bank account. The procedure can also be remote. An amount sufficient for the family to live for a year is transferred to the bank account.
4. Collection of the necessary documents for a D7 visa. The list includes:
An international passport;
A medical insurance policy;
Two colour photos;
A police clearance certificate from the country of origin;
A lease or purchase agreement for real estate;
Marriage or birth certificates;
Portuguese bank statement;
NIF registration certificate.
5. Personal submission of the documents at a consulate in your country. Considering the application takes up to 90 working days. The period can be extended when additional documents are required.
6. Entry into the country. The D7 visa is valid for 4 months. During this time, the applicant must come to Portugal and apply for a residence permit at the immigration office of SEF.
7. Preparation and submission of an application for a residence permit to SEF. After booking an appointment, the applicant personally submits the residence permit documents.
8. Receiving residence permit card. A residence permit card is sent to the investor's registered address in Portugal. The first residence permit card is valid for two years. After that, the investor can extend it for another three years and then apply for permanent residence or citizenship.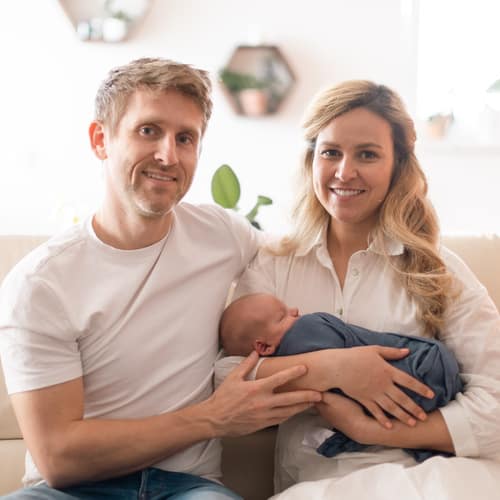 Andrew and Larisa
An international married couple moved to Portugal with a D7 visa
Portugal D7 visa for remote workers: experience
Here is a story of a couple who successfully obtained a Portugal D7 visa. Andrew is a Canadian citizen, and Larisa is from Ukraine. They met several years ago in Mexico. They are both working in IT and travel all the time. Two years ago, they moved to Tbilisi, Georgia. The guys liked the climate, cheaper expenses and good infrastructure.
Later they become parents and start thinking about relocating to a more prosperous country. They already have heard good feedback about the D7 visa and decided to try it this way.
Andrew had enough income to become the main applicant and include Larisa and newborn Tomas in the application. But he must go to the consulate in Canada. Larisa also met minimal income requirements but visiting Ukraine was not safe.
They contacted the Portugal consulate in Tbilisi and found out they didn't accept documents for the Portugal D7 visa. A couple can apply for a D7 visa in Turkey, Ankara. But they need to have Georgian residency first.
We have already had a residence permit in Georgia. We both registered as individual entrepreneurs and had an income of more than 50,000 lari a year — a minimum amount to get residency. Since no consulate in Georgia could accept an application for a D7 visa. We had to go to Ankara and apply there.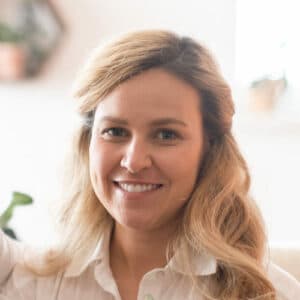 Larisa, 33 years old
Web-designer
Before applying for a D7 visa in Ankara, it was necessary to open a bank account, get NIF and rent an apartment. With a Canadian passport, Andrew could travel to Portugal visa-free and stay for 90 days per 6 months. So he went to Lisbon and did all the procedures for two months.
After that, a family went to the Turkey consulate in Ankara and applied for a Portugal D7 visa. They decided to live in Istanbul while waiting for a consulate's decision. In two months, the application was approved. They got back to Georgia, packed the stuff and went to Lisbon.
They made an appointment in SEF and submitted documents. Now they are waiting to get residence permit cards and making huge plans for the future in Europe.
Frequently asked questions
What is a D7 visa?
It's one of the ways to get a Portugal residence permit. Individuals can get a Portugal D7 visa in their country of origin. It allows two entries to Portugal and has a 4 months validity period. After arriving in Portugal, the D7 visa holder must apply for a residency permit with the Immigration and Border Services (SEF).
Сan remote workers apply for a Portugal D7 visa?
Yes. They should prove minimal income and show the contracts with customers outside Portugal.
Who is eligible for a Portugal D7 visa?
How much does a D7 Visa cost?
How to apply for D7 visa in Portugal?
Can I work in Portugal with a D7 visa?
No, you can't. But after getting a Portugal residence permit, you can work in Portugal and sign labour agreements with Portuguese customers.
How much do you need to invest in Portugal to get citizenship?
There is no investment program in Portugal leading to obtaining citizenship. But you can get a residence permit by investment according to Portugal Golden Visa program.
Investors can choose one of seven options:
Buy a property for restoration for €350,000 or a new real estate for €500,000. 

Purchase of investment fund units for €500,000.

Supporting arts and restoring cultural heritage for €250,000.

Investments in research activities for €500,000.

Capital transfer of €1,500,000.

Business investments from €500,000.

Opening a company with the creation of 10 job positions.
In five years, residence permit holders can apply for Portuguese citizenship.