Company registration steps in Portugal for expats
To open a company in Portugal, an expat needs to have a residence permit or citizenship. But applicants for the Portugal Golden Visa Program first go through all the steps of a company opening process and only then get a residence permit card.
The company opening process, including the preparation of documents, takes an average of 2 months. Registration of the company itself takes 1—2 days.
Company opening process in Portugal
1
+ 2 weeks
Get a tax number in Portugal
2
+ 2 weeks
Get a social security number
3
+ 3 days
Open a bank account in Portugal
4
+ 1 week
Name your company
5
+ 1 day
Choose your business structure or type
6
+ 2 days
Register your company
1. Getting a tax number in Portugal. The tax number Número de Identificação Fiscal (NIF) is needed to make payments in Portugal.
Foreigners can get a tax number remotely by a power of attorney. It means a person finds a tax representative in Portugal, such as a lawyer or a law firm. Then a person and a lawyer sign a power of attorney based on which the lawyer deals with the Portuguese tax administration and gets a number for the client.
To get a tax number in Portugal, one needs to submit documents to the Portuguese tax office:
a completed application for registration of a taxpayer number;
a copy of the internal passport;
a copy of the international passport;
a Taxpayer Identification Number in an origin country;
a bank statement to confirm the legality of income.
The Portuguese Tax Authority usually approves an application in two weeks. A new Portugal taxpayer enters into the register of taxpayers and gets a certificate with a unique nine-digit number and a personal account on Portugal's tax service website.
Do I need to become a Portuguese tax resident to get a tax number NIF?
No, you don't. Portugal allows one to get a tax number without living in the country. In comparison, to become a taxpayer in some other European countries, one usually needs to live in a country for more than 183 days a year.
2. Getting a social security number. In Portugal, employers are obliged to get the Social Security Identification Number (NISS) and notify the Social Security office when they take on workers.
Employers in Portugal are also required to make social security contributions for a company and employees. The contributions are calculated by applying the contribution rate to the gross remuneration.
Social security in Portugal accesses the rights of employees and protects against the following:
lack of work-related income caused by illness, disability, maternity, work injury, unemployment, old age or death of a family member;
inaccessible medical care;
insufficient family support, especially for children and adult dependents.
Foreign nationals who do not have a NISS can apply for one using the 'NISS NA HORA' service.
Applicants fill out the application and submit the following data to the 'NISS NA HORA to get a Social Security Identification Number (NISS):
full name;
date of birth;
place of birth;
nationality;
gender;
marital status;
current registration address;
tax identification document number (if already assigned);
a citizen card, residence permit, or another civil identification document from the country of origin and a simple copy.
When a legal representative requests, they should notarise the copy of the civil identification document of the person for whom the NISS is being requested.
The request is made in person at the district headquarters of the Social Security district centres or the local Social Security offices in Portugal. The service is available by appointment through telephone numbers: +210 548 888 or +300 088 888. The application for NISS in Portugal is free of charge.
3. Opening a bank account in Portugal. To open an account, one passes Customer Due Diligence. It means that one has to visit a bank in Portugal personally to provide passport details, income information and a Portuguese tax number. If having a tax representative in Portugal, one provides their details either.
After passing through a bank check, one gives their fingerprints and provides a sample signature to the bank to issue a card.
4. Naming your company. Entrepreneurs can choose the company's name from an online list of Institute of Registries and Notary (IRN) with available names, or they can create it themselves or use their surnames.
Investors first get approval, If they wish to propose a name for their company, and only then can they apply to open a company.
To get approval for a company's name, an entrepreneur completes a questionnaire and submits the name for approval to the IRN. The name approval process takes up to seven working days.
No approval is required when choosing a name from the online list of available names. Typically, the client is asked to select up to three name options from a list. On the company's registration day, an IRN employee will check the relevance and availability of the selected option on the spot.
Approval is also not required when using a surname as a company name.
5. Choosing your business structure or type. There are multiple legal structures for businesses in Portugal, regulated by the Portuguese Companies Code. Entrepreneurs can select the one that fits their companies' structure best.
Company types and their features in Portugal
Type of a company
Minimum authorised capital
Minimum number of co-founders or shareholders
Liability
Private Limited Company


Sociedade por Quotas

€5,000
2
Shareholders need to pay a minimum of €100 per share and are all viable for debts covered by business assets
Public Limited Company


A Sociedade Anomina

€50,000
5
Shareholders are liable for debts that amount up to their share value
Partnership


A Sociedade em Nome Colectivo

No minimum capital is required
2
Liability extends to personal assets that can be used to cover any company debts
Limited Liability Partnership


A Sociedade em Comandita

€50,000
2
Unlimited liability includes personal assets, as well as sleeping partners who give capital and where their liability is limited to the amount they invested.
Cooperative


Cooperativa

No minimum capital is required
2
The responsibility of members is limited to shares in the authorised capital.
Single-Member Limited Company


A Sociedade Unipessoal por Quotas

€5,000
1
Debt liability is limited to business assets
Individual Limited Liability Establishment


An Estabelecimento Individual de Responsabilidade Limitada

€5,000


must include at least two-thirds cash

1
Debt liability is limited to business assets
SoleTrader


A Empresario em Nome Individual

No minimum capital requirement
1
Unlimited liability
6. Registering a company. There are three ways of setting up a company in Portugal: online, on the spot and the traditional method.
Empresa Online allows Portuguese businesses to be set up and registered on the Internet for 1—2 days for €360.
Establishing a business in Portugal is also available through Empresa de Hora's on‑the‑spot system. Companies can be created in an hour for €360 via this government scheme. All partners should be present, with all legal representatives and necessary documentation.
Entrepreneurs also can register their Portuguese business at a Commercial Registry Office.
Benefits of starting a business in Portugal
Ease and low cost of registering a company. Portugal is in the top ten in the world in terms of ease of registering a company. Entrepreneurs can open their companies by filling out just one form in less than an hour.
The form inquires about specific information about an entrepreneur's company. For example, the type of company and each partner's capital share. It costs €360, and a company will be registered within one to two days.
1 hour and €360
To register a company in Portugal
Tax benefits. 14.7% is the corporate tax rate in Portugal's free economic zones, the Azores and Madeira. In contrast, mainland Portugal's standard corporate tax rate is 21%.
Madeira also has a reduced corporate tax rate of 5%. The rate applies to companies that get income from transactions with foreign entities or businesses with an IBCM licence.
5%
Reduced corporate tax
in Madeira
VAT rates in Portugal are the lowest in the EU. For example, businesses producing food and related services in the Azores region pay 4% and Madeira — 5%. In mainland Portugal, the standard VAT rate is 23%.
Expats also can get a special tax status of a Non-Habitual Resident (NHR) in Portugal. The status allows expats not to pay taxes on global income. With the NHR status, one pays the tax for the income earned in Portugal at 20%. In contrast, Portugal's standard income tax rate can be as high as 48%.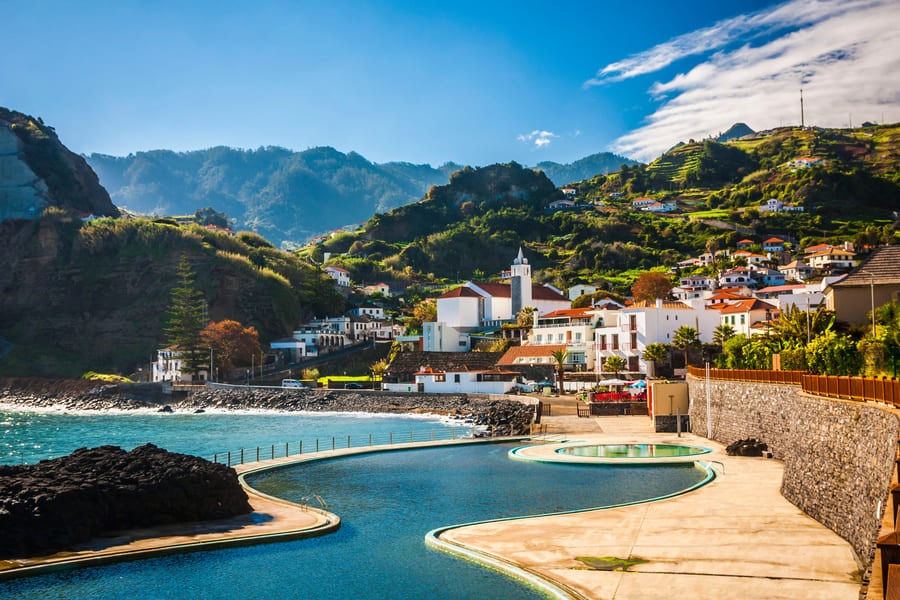 Governmental support. In Portugal, public mechanisms support small and medium-sized companies. There are also specific support programs for entrepreneurs.
The Startup Portugal+ Programme aims to support the development of entrepreneurship in Portugal. Startup Portugal operates as a medium between the government, entrepreneurs, incubators, and accelerators. It helps implement public policies and private initiatives and attract the best foreign talent, founders, and investors.
In addition to the Startup Portugal, the Portuguese government offers other support programs for entrepreneurs:
Reliable and accessible banking system. Sometimes startups cannot receive investments from foreign investors directly because of the lack of a bank account. Banks can either simplify this process or delay it for many months.
Portuguese banks are more favourable to non-residents, unlike most EU countries, where third-country citizens are likely to be denied opening an account.
More than 150 financial institutions operate in the country, including public and private retail banks and cooperative, investment and mobile banks. Branches of international banks operate in the country as well.
The best international banks in Portugal are:
The number of fraud activities per transaction in Portugal is 0.009%. It is one of the lowest rates in the European Union.
The most demanded industries in Portugal
The tourism industry is the most popular among investors. It brings Portugal about 20% of its GDP as more than 25 million tourists visit Portugal annually.
20% of GDP
Сomes from tourism in Portugal
Investment in the hotel industry is the most popular tourism direction among Portugal's expat entrepreneurs. The most popular areas are the Riviera, Algarve, Azores, and Madeira.
Another industry in Portugal that needs investments is agriculture. For example, grape growing and wine production, fishing and fish processing, and meat production.
Portugal's capital, Lisbon, traditionally attracts investors. Port logistics and precious metals are also in demand for investment in Portugal.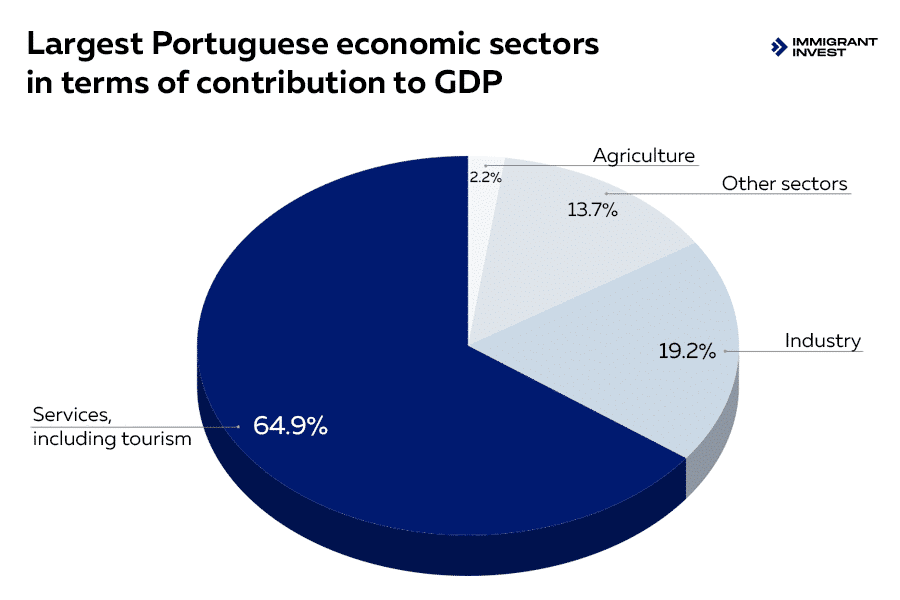 Portugal Golden Visa for starting a business
The Portugal Golden Visa Programme allows investors to get residence permits by investing in the country's economy. It has seven investment options, two of which include starting a business in Portugal:
minimum of €500,000 investments into business with the creation of at least 5 jobs;

opening a company with the creation of at least 10 jobs, with no fixed investment amount.
For a company opening with the creation of at least ten jobs option, entrepreneurs can rely on Decreto-Lei n.º 248/86. It indicates the minimum authorised capital depending on a company's type. For example, to open a Private Limited Company in Portugal, one needs to document the presence of a minimum authorised capital of €5,000.
We needed a branch run by one of us to gain a foothold in the EU market. I've volunteered to move to the EU and manage our company there. I applied for the Portugal Golden Visa Program, and we chose to open a company with the creation of at least 10 jobs. By now, we've already stood firm in the Portuguese IT market. In three years, we plan to enter the IT market of the European Union.
Ojasvat, 36 years old
One of the Indian IT company founders
With Portugal residence permits, expats can travel without visas to the Schengen Area and spend in these countries for up to 90 days out of 180. After five years of maintaining the status, expats can apply for permanent residence or citizenship in Portugal.
Portuguese citizens travel without visas to 187 countries. That includes destinations like the USA, Canada, the UK, and Australia. Also, Portuguese citizens can choose to live in any EU country.
Other benefits of the Portugal Golden Visa are:
no need to take a language proficiency or history exam;
no need to permanently reside in the country, as seven days a year are enough;
expats can get a residence permit for a period of two months;
the status is obtained by the investor's entire family, including parents.
Frequently asked questions
Can a foreigner start a business in Portugal?
Yes, any foreigner can start a business in Portugal. To open a company in Portugal, an expat needs a residence permit or citizenship in the country. But applicants for Portugal Golden Visa by investment into business first go through all the steps of a company opening process and only then get a residence permit card in Portugal.